May 29, 2015
Smoking in the home can lower resale value and make it more difficult to sell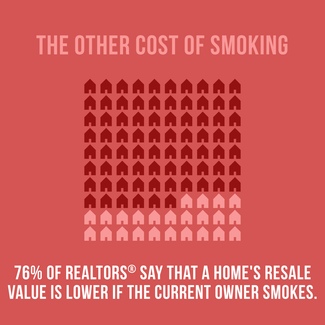 News Release

A new survey of BC Real Estate Agents finds that smoking in condos can significantly affect property values. In fact, it found most buyers are less likely or unwilling to buy smokers' homes.
May 29, 2015 - Vancouver – BC smokers now have another reason to quit according to a new survey of British Columbia REALTORS® released today by the BC Lung Association and the Heart and Stroke Foundation.  According to survey findings, owners who smoke in the home and want to sell, might not only have a harder time selling, but are also likely to get less money from the sale.

"Our survey findings suggest that in addition to undermining health, homeowners who smoke are burning a hole in their pocketbook," said Scott McDonald, CEO of the BC Lung Association.

Seventy six per cent of British Columbia REALTORS® say that most prospective buyers are less likely or unwilling to buy smokers' homes.

"This survey confirms what we already know. The majority of British Columbians prefer to live in a smoke-free home. They have come to expect a smoke-free workplace, and they certainly expect no less in their homes," continued McDonald.

Over half of BC REALTORS® surveyed say a property's value is decreased by as much as 10 per cent if the previous owners allowed smoking in the home.

"Also, we know the majority of people who smoke want to quit, so we hope this gives them even more reason to keep trying. We also hope it encourages more homeowners, property managers and Strata councils to make their property 100 per cent smoke-free – inside and out," said Adrienne Bakker, CEO, BC & Yukon of the Heart and Stroke Foundation.

Jason Feinstadt, a Vancouver REALTOR® with Macdonald Realty is not surprised by the survey findings. He said, "The smell of smoke is definitely an issue for a lot of buyers I've worked with. Buyers prefer clean and scent-free houses. You can remove the smell of smoke, but re-painting and re-carpeting can add up to be a significant expense."

Jack Boomer, spokesperson for SmokeFreeHousingBC.ca, an online resource for smoke-free multi-unit housing advocates, said, "This dispels the common myth among strata owners that adopting a no-smoking bylaw could negatively impact resale values. In fact, these survey results show that nothing could be further from the truth, and that it pays to adopt a no-smoking bylaw."

According to the Canadian Tobacco, Alcohol and Drugs Survey (CTADS), the BC Smoking rate is 11.4 percent, the lowest smoking rate in the country.  

 

Summary of key survey findings

These are the findings of an independent survey of 200 REALTORS® in British Columbia conducted by the Leger Research Intelligence Group between April 30 and May 5, 2015. A probability sample of the same size would yield a margin of error of +/- 6.9 percent, 19 times out of 20.
76 percent of BC REALTORS® say the resale value of homes is lower if the current owners smoke. 52 percent of REALTORS®say the resale value is "a bit" lower, and another 26 percent say that it is "significantly" lower if the previous resident smoked inside.
70 percent of BC REALTORS® say that most prospective buyers are unwilling or less likely to purchase a home where owners have smoked.
77 percent of BC REALTORS® agree that it is more difficult to sell a home where the current owners smoke. Smoking houses are less attractive: the smell of smoke is an issue; buyers like clean houses; and the overall cleanup costs are a concern.
REALTORS® outside of Greater Vancouver are more likely to feel that the resale value will be lower if the current owners smoke (92 per cent vs. 72 per cent of Vancouver REALTORS®).
Note:

Thanks to Johnson & Johnson Inc. Canada for helping support the development of the survey.

For information on how to implement a no-smoking bylaw visit
www.smokefreehousingbc.ca

MEDIA RELATIONS CONTACT
Sharon Hammond, Manager, Smoke-Free Housing BC
An initiative of the BC Lung Association & Heart and Stroke Foundation (BC & Yukon)
T 604.732.1859 E shammond@contextresearch.ca