June 17, 2015
Prince George developer goes 100% smoke-free from the get go for marketing advantage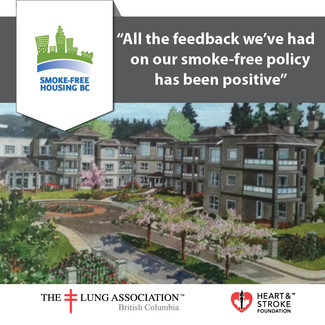 Kim Croft's Story

Magnolia Gardens on the Park is a new condo development in Prince George. Kim Croft and her husband have taken bold steps to ensure every unit they sell is smoke-free.
The government of BC officially proclaimed June 2015 as "Smoke-Free Multi-Unit Housing" month. For resources and more information, go to SmokeFreeHousingBC.ca.
"We've never been smokers, and overall live a pretty clean and healthy lifestyle. Why wouldn't we want to promote similar behaviour in our development business?" asked Croft.
Magnolia Gardens is a new development being built alongside a pre-existing building in Prince George. Although the current units are overseen by a Strata Council, Croft is ensuring that the new units being built are exclusively smoke-free.
"We've already had some interest," said Croft. "One woman called and specifically asked if the units were smoke-free. It felt great to be able to assure her they are."
"So far, all feedback we've had on our smoke-free policy has been positive," continued Croft.
"Our main motivation to promote a smoke-free environment is to encourage better health for everyone," explained Croft. "However, the fringe benefits of higher resale costs and lower maintenance fees are a definite added bonus."
According to health advocates the
BC Lung Association
and the
Heart and Stroke Foundation
, smoke-free condos are gaining momentum as more and more families what to live in 100% smoke-free environments. According to a recent survey of BC Real Estate Agents, condo owners that smoke will have a more difficult time selling their property, and will get less money for their property as well.
"Our survey findings suggest that in addition to undermining health, homeowners who smoke are burning a hole in their pocketbook," said Scott McDonald, CEO of the BC Lung Association.   
Smoking can significantly impact the desirability of a property for prospective buyers. It stains the walls and ceilings and leaves an odour that can be almost impossible to eliminate.  
Seventy per cent of British Columbia REALTORS® believe that most prospective buyers are less likely or unwilling to purchase a home where the owners have smoked. 
But even if the people selling the condo don't smoke – if their neighbours smoke and there's a smell of smoke in the building - it can also have a negative impact on property values. Aaron Jasper, a REALTOR® with Klein Group, said he was worried about selling his own condo in the West End a few years ago due to a neighbour who smoked. "We'd be coming down the hall, and when they would smell the cigarette smoke, they'd lose interest without even having seen the suite."
Over half of BC REALTORS® surveyed say a property's value is decreased by as much as 10 percent if the previous owners allowed smoking in the home. 
Jack Boomer, spokesperson for SmokeFreeHousingBC.ca, an online resource for smoke-free multi-unit housing advocates, said, "This dispels the common myth among strata owners that adopting a no-smoking bylaw could negatively impact resale values. In fact, these survey results show that nothing could be further from the truth, and that it pays to adopt a no-smoking bylaw." 
According to the Canadian Tobacco, Alcohol and Drugs Survey, the BC Smoking rate is 11.4 percent, the lowest rate in the country.  
Read the full News release of the survey results here.
For info on how to implement a no-smoking bylaw visit
If you want to quit smoking you're not alone. In BC, quitters now outnumber smokers by 2:1. For help with quitting visit
quitnow.ca
or call the helpline for one-on-one support at 1-877-455-2233.