June 12, 2015
REALTOR® gives his clients the ugly truth about smoking in condos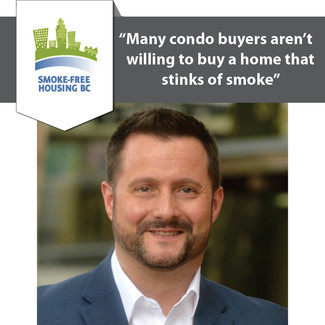 Aaron Jasper's Story

If you're trying to sell your condo and have smoked in the home - you might have a harder time selling it, and you're also likely to get less money from the sale, according to a new survey of BC REALTORS®.
Sellers need to be aware that while there's a hot housing market in BC, many condo buyers aren't willing to buy a home that stinks of smoke. "The next time I'm sitting down with a client who happens to smoke, and he/she asks how much they can get for the place, I'll be giving them the ugly truth - that because of the smoke, there's a good chance they'll get a lower price." said Aaron Jasper, a REALTOR® with Klein Group.
The
Heart and Stroke Foundation (BC & Yukon)
and the
BC Lung Association
recently commissioned a
survey of 200 BC REALTORS®
on the impact of smoking in the home. The survey found that smoking in the home can actually deter prospective buyers. While close to six of 10 REALTORS®  said most buyers are less likely to buy a home where people have smoked - 12  percent went even further and said most buyers are actually unwilling to buy a smokers' home.
But even if people selling the condo don't smoke – if their neighbours smoke and there's a smell of smoke in the building - it can also have a negative impact on selling the unit. Jasper said he was worried about selling his own condo in the West End a few years ago due to a neighbour who smoked. "We'd be coming down the hall, and when they would smell the cigarette smoke, they'd lose interest without even having seen the suite."
Jack Boomer, spokesperson for
SmokeFreeHousingBC.ca
, an online resource for smoke-free multi-unit housing, said, "The good news for condo owners is that adopting a non-smoking bylaw that applies to current and new residents is legal in BC. In fact, non-smoking bylaws are gaining momentum across the province, as more and more condo owners prefer to live in a building that's 100% smoke-free. These
survey results
just add to the benefits of going smoke-free and confirm that it really does pay to adopt a non-smoking bylaw."