June 19, 2015
Powell River rental caretakers converting their building to 100% smoke-free starting January 1, 2016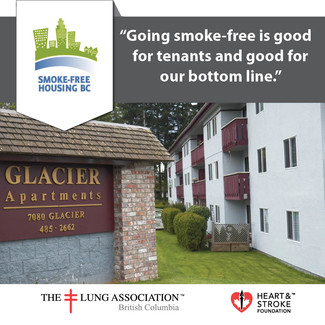 Lyndell Klassen and Paul Leblanc's Story

"People kept complaining about the smoke, so we're going to be officially smoke-free starting January first," started Lyndell Klassen and Paul Leblanc, caretakers for a local apartment building in Powell River.
The government of BC officially proclaimed June 2015 as "Smoke-Free Multi-Unit Housing" month. For resources and more information, go to 
SmokeFreeHousingBC.ca
.
Klassen and Leblanc have been receiving complaints from various tenants about the smoke-smell lingering in the hallways. "We have both cigarette and marijuana smokers; the smells linger and bother a lot of people," explained Leblanc.
Coastal Health Authority became involved and worked with the building owners to evict a tenant who wasn't willing to abide with the no smoking regulations. "We had many meetings and discussed various options, but it came down to doing what was best for the majority of our tenants. In this case, that meant evicting the tenant who was in violation of our no-smoke policy," said Leblanc.
There are currently 15 smokers out of the apartment building of 58, many who have been living in their units for multiple years.
"We've been putting up signs and notifying people about the changes to become a smoke-free building starting January first," continued Leblanc. "Of course we will have to grandfather in some tenants who smoke, but we'll do our best to encourage them to smoke elsewhere and ensure all new tenants sign on to our smoke-free policy. In the long run it will save a lot of headache and hassles in the future to have this stipulation in place before more issues arise."
According to health advocates the BC Lung Association and the Heart and Stroke Foundation, smoke-free apartments are gaining momentum as more and more families want to live in 100% smoke-free environments. In fact, a 2013 Angus Reid survey of 833 residents living in multi-unit dwellings, confirmed that nearly two thirds of residents prefer to live in a building that is completely smoke-free. 
Hugh Turner, a landlord in Victoria who owns multiple apartment buildings, switched all his buildings to smoke-free status six years ago when he learned it was legal to do. "It's good for tenants and it's good for our bottom line. Plus it was easy to do." Like many landlords in BC, Turner recognized the huge demand for smoke-free housing, as well as the obvious cost savings, and hasn't looked back.
Proactive landlords who have made the switch to smoke-free buildings are simply finding the benefits too great to ignore:
Saves you money by reducing cleaning, repair and maintenance costs. 
Reduces complaints from tenants: 50% of residents living in multi-unit dwellings have experienced smoke infiltrating their homes from neighbouring units. 
Reduces the risk of fires: Tobacco materials are the #1 source of fatal residential fires in BC.
Offers a safer, healthier and cleaner indoor environment for residents.
Protects against litigation by tenants seeking relief from disabilities aggravated by second-hand smoke.
Is non-discriminatory. They don't exclude people who smoke, but simply require that they comply with the no-smoking policy.
A greener path to a greener building. For LEED certification, buildings must have a no-smoking policy.
"British Columbians are used to smoke-free environments at work, in restaurants and bars, in public places, as well as outdoor parks and beaches. And we want the same protections in our homes." said Scott McDonald, CEO of the BC Lung Association.
Once landlords go smoke-free they're hooked – on the benefits that is. "It's one of the easiest things you can do to protect your investment, reduce fires and clean-up costs, protect resident health, and reduce complaints of second-hand smoke from frustrated tenants." says Tyler Davis, Property Manager, Vancouver Management Ltd.
According to the Canadian Tobacco, Alcohol and Drugs Survey, the BC Smoking rate is 11.4 percent, the lowest rate in the country.  If landlords are concerned about vacancies, look to this growing population of prospective tenants who view smoke-free homes as an attractive and non-negotiable amenity. 
For information on how to make your building smoke-free visit
For help with quitting smoking, visit
quitnow.ca
or call the helpline for one-on-one support at 1-877-455-2233.