January 15, 2016
Heart and lung health advocates call for national ban on all flavoured tobacco products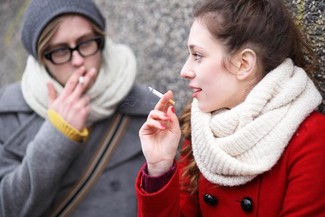 Canada's Health Ministers are meeting in Vancouver during National Non-Smoking Week (January 17 to 23, 2016). To help protect youth from taking up smoking, the Heart and Stroke Foundation and the BC Lung Association are urging Canada's Health Ministers to establish a national ban on menthol and other flavoured tobacco products.
In an effort to protect youth from taking up smoking, the Heart and Stroke Foundation and the BC Lung Association are urging Canada's Health Ministers to move quickly towards a national ban on menthol and other flavoured tobacco products when they meet in Vancouver during National Non-Smoking Week (Jan. 17 to 23rd).

"While positive changes have been made at the federal level to better protect Canadian youth from flavoured tobacco, these changes do not include a ban on menthol flavouring. Neither do they apply to those who smoke flavoured water-pipe tobacco (hookah), to those who consume flavoured chewing tobacco nor to those who consume various other tobacco products," said Scott McDonald, CEO of the BC Lung Association.

"Youth are the highest users of flavoured tobacco products. Today's teenager is tomorrow's potential regular customer," continued McDonald.

"Until we ban all flavoured tobacco products, tobacco companies will continue to exploit gaps and loopholes in regulations and find new ways to market their products to youth, like industry's latest gimmick of cigarettes with squeezable menthol capsules in the filter now available in many Canadian stores," said Adrienne Bakker, CEO, Heart and Stroke Foundation, BC & Yukon.

"Now is the time to address the patchwork of legislation that exists across Canada with regard to flavoured tobacco products. In the absence of federal action on flavoured products, a number of jurisdictions have moved ahead and banned them, including menthol. Others, including BC, are awaiting federal movement on the issue," said Bakker.

"Last year BC Health Minister Terry Lake agreed a national strategy was necessary to create consistent standards on the issue of flavoured tobacco use," continued Bakker. "Given the new federal government's commitment to strengthening the federal tobacco control strategy, and BC's support for tougher regulation, we're hopeful action will be taken."

"The national Youth Smoking Survey for the 2012-13 school year found that among high school students who smoke daily, 43 per cent smoke menthol. In sharp contrast, only 5 per cent of adult smokers use menthol cigarettes.  Any legitimate effort to reduce flavoured tobacco use among youth must include a ban on menthol cigarettes," added McDonald.

The Heart and Stroke Foundation and the BC Lung Association have formed a partnership to raise awareness of the harms of second-hand smoke and to advocate for smoke-free environments for all workers and the public. cleanaircoalitionbc.com
The Heart and Stroke Foundation's mission is to prevent disease, save lives and promote recovery. A volunteer-based health charity, we strive to tangibly improve the health of every Canadian family, every day. Healthy lives free of heart disease and stroke. Together we will make it happen. heartandstroke.ca
For more than 100 years, the BC Lung Association has led the fight for healthy lungs and healthy air. The BC Lung Association is the leading BC organization working to save lives, prevent and improve lung health through research, advocacy, education and support. When you can't breathe, nothing else matters. bc.lung.ca
Fast Facts
Health Canada defines flavoured tobacco products as menthol cigarettes, flavoured cigarillos, cigars, shisha (waterpipe tobacco), pipe tobacco, blunt wraps, bidis, smokeless tobacco, and rolling papers.
In 2010, the federal government enacted Bill C-32 banning all tobacco flavours, at any level of additive, as it applies to cigarettes, cigarillos (1.4 grams in weight or less, or with cigarette filter) and blunt wrap.  However, if a cigarillo/little cigar weighed more than 1.4g and did not have a cigarette filter, the product could still be flavoured. 
Exempted from Bill C-32 was menthol flavouring. Also exempted are restrictions on flavoured water-pipe tobacco (hookah), flavoured chewing tobacco and various other flavoured tobacco products.
In December 2015, Bill C-32 was amended to extend the original ban on tobacco flavouring to cigars from 1.4g or less to 6g or less. However, these amendments still allowed for menthol flavouring in addition to rum, whisky, wine, and port flavourings.
Five provinces to date have adopted legislation to ban menthol cigarettes: Nova Scotia (effective May 31, 2015), Alberta (effective September 30, 2015), New Brunswick (effective January 1, 2016), Quebec (effective August 26, 2016) and Ontario (full implementation effective January 1, 2017). PEI is also currently developing regulations.
Menthol (mint) flavoured cigarettes are one of the most dangerous flavoured tobacco products. Menthol has medicinal properties that facilitate and maintain nicotine addiction. Menthol masks the harshness of tobacco smoke, enables deeper inhalation, and increases nicotine absorption1. 
Menthol makes it easier for youth to start smoking and harder for them to quit2. Youth who smoke menthol cigarettes smoke 60 per cent more cigarettes than their non-menthol smoking peers3. Youth menthol smokers are three times more likely to report that they intend to be smoking in the next year compared to students who did not smoke menthols3. 
Menthol is the most popular tobacco flavour among youth4. One in three school-aged youth who smoke tobacco are using menthol cigarettes.
________________________________________________________________
1. Clark, Pamela I. et al, Menthol Cigarettes: What do we know? A background paper presented to the World Health Organization, November 2008. 
2. Hersey, J.C. Nonnemaker, J.M., & Homsi, G. Menthol cigarettes contribute to the appeal and addiction potential of smoking for youth. Nicotine and Tobacco Research, 12 (Suppl 2): S136-S146. December 2010. 
3. Azagba, Sunday., et al. Smoking intensity and intent to continue smoking among menthol and non-menthol adolescent smokers in Canada. Cancer Causes & Control: Volume 25, Issue 6. June 2014. 
4. Health Canada. Youth Smoking Survey 2012-2013