June 7, 2016
Surrey father can't let his kids play in their yard because of neighbour's second-hand smoke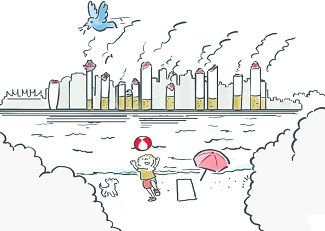 The second-hand smoke drifting into Richard and his family's back yard is so intense he hasn't been able to let his kids play in their back yard for a year.
"I live in a fourplex condo complex and my next door neighbour smokes outside and in the garage, which engulfs the entire front of my unit in smoke.  My first step was of course to talk with them, but it didn't solve anything," says Richard, who used to smoke himself and doesn't want to make judgements against anyone who chooses to smoke.
"I am not passing judgement on people who enjoy smoking, I just want to protect my kids from  second-hand smoke," he says, explaining he even offered to help his Strata Council construct a designated smoking area in a corner of the property where he felt  they would be able to smoke without affecting his kids.
"My neighbours were not interested in working out a compromise, so I approached our Strata Council, but it was nine months before they got back to me," he continues. "That is nine months my children couldn't play outside due to the second-hand smoke."
When he did hear back, Richard says his Strata Council said there was nothing they could do, and his only option would be to contact a lawyer.
"I began writing everything down" continues Richard. "I sent my Strata Council detailed accounts, should it have to proceed to court. I provided medical documents of my wife's asthma and parents and parent-in-laws health issues, did research, and sent copies of information confirming what other Strata Councils and owners have done to combat similar problems. I don't want get a lawyer involved, but it is getting to the point where I don't have any other option."
It has now been more than a year, but for the time being Richard remains hopeful his Strata Council will take action using the information he has provided. And, in the meantime, he has also sent a questionnaire to his other neighbours, which includes an explanation of the impact his neighbour's second-hand smoke is having on his family's life.
"Legal action will be my last resort," says Richard. "I get along with most of my neighbours. And some of them smoke too. But they're respectful about where their smoke goes and who it effects. For this reason, I don't want to suggest we become a 100 percent smoke-free property. I just want measures taken to ensure my children - and their health – is protected."
 "Richard's story is not uncommon," said Sharon Hammond, Manager of smokefreehousingbc.ca, a valuable resource created for residents and Strata Corporations exploring the idea of going smoke‐free.
 "We hear from British Columbians on a daily basis desperately seeking help to reduce the smoke entering their homes and making their families sick. Some of these stories are heartbreaking, and there's just no adequate laws to protect them," she added.
Current provincial law prohibits smoking in most public places, and in all residential building common areas, but do not apply within a private home, patio or balcony. Making more buildings smoke-free is the only way to effectively protect individuals and families from the risks of exposure to second-hand smoke, and ensure all residents are equally protected. That's why we, the Clean Air Coalition, are encouraging the provincial government to take steps necessary to stimulate supply in BC.
Read our 2016 report and recommendations here.
JUNE 2016 WAS PROCLAIMED SMOKE-FREE MULTI-UNIT HOUSING MONTH BY THE PROVINCE OF BRITISH COLUMBIA
For easy‐to‐use info on how to implement a no‐smoking policy or bylaw visit: www.smokefreehousingbc.ca.