May 31, 2018
Residents living in multi-unit housing want protection from second-hand tobacco and marijuana smoke: survey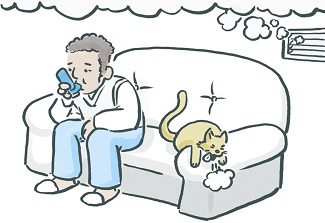 According to a new survey of BC multi-unit housing residents commissioned by the Clean Air Coalition of BC, the majority of residents would support government measures to increase BC's meagre stock of 100% smoke-free multi-unit housing.
British Columbians are protected from exposure to second-hand smoke in virtually all workplaces and public places. Half of multi-unit housing residents surveyed have experienced second-hand smoke exposure – and almost all (86%) consider it harmful.
"We're hopeful these survey results prompt new regulations designed to increase BC smoke-free multi-unit housing options and protect people from second-hand smoke infiltrating their unit from neighbouring smokers, particularly those with health concerns or families with young children," said Jack Boomer, Director, Clean Air Coalition of BC.
Coalition partners (the BC Lung Association, Heart and Stroke Foundation and Canadian Cancer Society) applaud government efforts to protect British Columbians from the harms of second-hand smoke – including recent news that existing laws will be strengthened to include protection from second-hand cannabis smoke. However smoke-free multi-unit housing options remain scarce.
---
"Recreational cannabis smoking is about to become legal and BC is experiencing the highest level of new multi-unit home and rental building construction in years – I don't think second-hand smoke problems are about to go away," Boomer added. "As it is, today close to half of BC's population live in physically connected households." 
---
David Hutniak, CEO of LandlordBC agrees. "Second-hand smoke grievances are a key source of tenant complaints and will only intensify once recreational cannabis smoking becomes legal. For landlords that's a problem. Under current regulations, smoking complaints are not easy to resolve."
To implement a smoke-free policy in an existing rental building, all existing tenants must be 'grandfathered' (allowed to maintain their smoking status) and landlords must 'phase-in' the no-smoking policy as existing tenants vacate the premises to make all future tenancies smoke-free.
"Given low vacancy rates, under current rules it can take years to address problems and convert buildings to smoke-free status," Hutniak continued.
"British Columbians are short of options. For those living in social housing and unable to pay market rent, many simply cannot escape the smoke, even when their health is being severely compromised," said Boomer. "Even for those who can afford to move, smoke-free multi-unit housing options in BC are scarce."
According to Boomer, stratas is one area where progress is being made.  "Stratas are less constrained than managers of rental housing because under the Strata Property Act, if the strata council can get the votes, they can legally ban smoking within individual units and on balconies without 'grandfathering' existing owners. However, strata corporations who are smoke-free today, may wish to revisit and strengthen their policies to included marijuana, as well as other forms of smoking including vaping."
---
According to the May 2018 survey of BC multi-unit housing residents:
Over 8 in 10 think new residents should be given the right to know which units are designated as smoking units and whether smoking was permitted in the previous tenancy.
7 in 10 support the idea of landlords being able to issue a six-month written notice instead of grandfathering existing tenants so more BC apartments can be converted to smoke-free status quicker. This does not mean that tenants who smoke must quit – it just means that they are no longer allowed to smoke in their units.
7 in 10 support the provincial government making all new market rate and social housing complexes 100% smoke-free to address the extreme shortage of smoke-free multi-unit housing in BC.
7 in 10 support the idea of new BC condos having a no-smoking by-law by default that applies to all units, including balconies.
---
"Living free from breathing other people's smoke should not be a luxury afforded to only those who live in single, detached homes,"continued Boomer. "Evidence from survey data suggests strong support for smoke-free housing and that the majority of BC multi-unit housing residents would choose smoke-free housing if given a choice."
Media contact: Jack Boomer, Director, Clean Air Coalition of BC: T 250 721 4268 or